INFORMATION – #cursolabDT
For professionals and students from all areas of knowledge interested in facilitating collaborative educational processes in schools, NGO, businesses and other institutions. 
Limited number of participants! — It is not a massive online course.
36 hours certificated  – Prototype your own Design Thinking Workshop!
Course translation into English: Nathalie Nahas

WHAT IS DESIGN THINKING
By definition, Design Thinking is a problem-solving approach based on collaborative and experimental intentional processes that can lead to innovation.
In education, Design Thinking can support the work for socio-emotional competencies by addressing everyday issues and problems as opportunities that can lead to creative solutions, be it classroom, pedagogical planning or school management issues.
Design Thinking has been used in public and private organizations around the world and aims to stimulate the culture of collaboration among those involved in the search for solutions that result in perceived value by people.
COURSE MODULES
Course is divided into 5 modules
1) Education context
2) Concept and history of Design Thinking
3) Discovery and Interpretation
4) Ideation and Experimentation
5) Create your own workshop
ABOUT THE COURSE
Empathy, collaboration and experimentation form the three pillars of Design Thinking (DT), an approach that can support the search for innovation with quality, from the perception of value in people's lives. The concept gained popularity in the early 2000s, when IDEO, one of the most influential and internationally awarded agencies with headquarters in Silicon Valley, California / USA, started to use in their consulting work for public and private organizations around the world.
Design Thinking seeks to create a culture of innovation centered on the human being. It has been used in several areas of business to social causes and aims to stimulate co-creation process for searching solutions that result in value perceived by people. Two years after the launch of Design Thinking for Educators in Brazil, Educadigital Institute is offering an online training course for facilitators for people who speak English, aimed at professionals from all areas of knowledge interested in mediating collaborative educational processes in schools, NGO, businesses and other institutions.
LEARNING ENVIRONMENT
The online platform is Moodle, a free software of a collaborative learning environment that encourages and enables all participants actively, to learn together from available online content, theoretical references and interactive activities. To receive the certificate, the participant will have a month (4 weeks) to create and implement a workshop prototype.
What is the course's final work?
Participants have to organize themselves a Design Thinking workshop as a conclusion of the course.
What is prototyping?
Prototyping is an early sample, model, or release of a product built to test a concept or process or to act as a thing to be replicated or learned from. It is a term used in a variety of contexts, in this course it refers to the workshop that will be organized by the students as a course final activity.

How the course is distributed to a workload of 36 hours?
The course requires a minimum of 1 hour daily dedication or 7h per week in total of 4 weeks, one module per week. Each participant organizes and distributes the time as available. In the fifth module, the participant has around 8h for preparing their plan to the workshop prototype and up to 4 weeks to implement, register it and send the report as final work. Online discussion forum, collaborative Wiki and hangouts online!
Will I receive a certification?
Yes. All participants who complete the course and conduct the final prototype will receive a certificate.
How much is the course fee?
Course fee: EUR 500
Pay with Paypal in your currency
Enroll now
Email for further information?
Contact us: cursolab@educadigital.org.br
Priscila Gonsales 
– 
Ashoka's Fellow
, máster in Education, Family and Technology from Pontifícia Universidad de Salamanca (Spain), posgraduation degrees in Communication Management Process from University of São Paulo, expert in Design Thinking from ESPM-SP and graduated in Jornalism from Casper Líbero University. She has been working with education and technology since 2001. She is founder of Educadigital Institute (
www.educadigital.org.br
), a NGO in Brasil that works for open education in the digital culture. Consultant of TIC-Educação, a survey annually organized by Brazilian Internet Steering Committee (CGI.br). One of the authors of the books Recursos Educacionais Abertos (
www.aberta.org.br/livrorea
) and How to Implement an OER Policy (
www.educadigital.org.br/guiaEA
)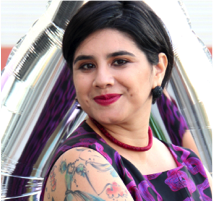 Leila Ribeiro – I'm a tattooed PhD, piercing fake user, karaoke dancer, internet creator known as @leilagirassol, super addicted in series (like GoT, The Walking Dead, Stranger Things, Jessica Jones, Mr. Robot…you know, show me your favorite series and I tell you who you are hahha) and also co-founder of Sala (an education business in Brazil). But if you prefer something more academic I say I'm a Doctor in Information Science, Master in Applied Linguistics, Master in Design and nowadays doing a post-doctoral research in Participatory Design in Education. As you can see, I'm completely nerd but also a creative learner and a subversive teacher who is insane for disruptive learning.